Families connect with loved ones in nursing homes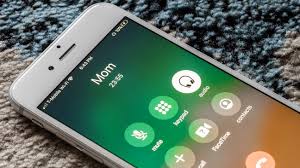 Nursing home residents are among the most affected people by COVID-19. They have little connection to loved ones outside of their place of residence. This makes it very hard for them to see and grow closer with their loved ones especially in person. Residents are taking advantage of many other resources,
"We help them set up FaceTime and window visits, they can also see them if they have a doctor's appointment and the family has the option to pick them up," CNA at Patriot Place Grace Sonnentag said.
English teacher Amy Wenig also has a loved one in a nursing home (her mother) and they stay in touch using similar methods,
"My mom, Jean Chier, is a resident at Patriot Place. During the summer months we had regular outside visits, but now in the winter we have to rely on email, FaceTime and phone calls," Wenig said.
Not only are residents adapting to these methods, but also to technology by using FaceTime and Skype as the main sources of communication with loved ones outside the nursing home.
While some are taking advantage of these methods, others are trying to do so but it just is not working for them. Some residents are struggling to even find the will to live because they've become so depressed due to the current conditions,
"Most are becoming depressed and less motivated and at times refuse to eat and their health just declines from there," Sonnentag said.