Food review: Chick-fil-A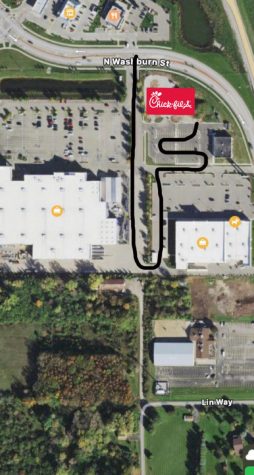 The famous Chick-fil-A food chain is widely known for its classic chicken sandwich, cheery, happy workers and for the workers saying "my pleasure." The people of Oshkosh and surrounding areas were very excited for a brand new Chick-fil-A to be in town. The Chick-fil-A's grand opening was Jan. 7, and this led much traffic to the area. 
When pulling up to the Oshkosh Chick- fil-A, the line stretched all the way around Lowes and was directed by two Oshkosh police officers. Thinking the line would take at least an hour, but it ended up only being 20 minutes at most. When ordering, the Chick-fil-A worker was very nice and had great enthusiasm. Most of the workers were still being trained so the line had its flaws but they still tried their hardest to make the line smooth and fast at the same time. One downfall of Chick-fil-A is that when ordering the menu is not visible so people who don't go very often have to look up the menu on their phone. After ordering, the worker will ask how guests are paying. This is very convenient because payment is available with a card right away and cash is paid with a worker right before receiving food and it all flows so well together to help make it go faster.
When trying the food, I was very impressed. The classic chicken sandwich was made to perfection. The sandwich consisted of a large, crispy piece of chicken within a very soft bun and then adding in its famous "Chick-fil-A" sauce. When taking a bite, my mouth watered from the deliciousness. The classic chicken sandwich meal also came with a side of waffle fries that were golden and had just the right amount of salt. Dipping the french fries in the ice cream was the perfect combination of sweet and salty and hot and cold. All of this washed down with a lemonade brought the whole meal together. 
Overall, the Oshkosh Chick-fil-A, made a very good impression with their friendly staff along with fast service despite a long line. The food was very good and cooked perfectly. The new Chick-fil-A is very recommended for all to try.
Rating: 5/5