Boys basketball reflects as end of season approaches
As the basketball season approaches the end, the boys varsity team reflects on how the season has gone so far as well as how they hope to finish off the rest of the season. 
"The season is not going as planned, but we are still working together and trying to improve everyday as a team," junior Hunter Boegh said.
Throughout every season, each team has their good games and the games they struggle with. A struggle is only a learning point that the team can hope to improve from.
"One thing we struggle with is closing out games when we are up. We just can't seem to keep the lead," sophomore Conner Batley said.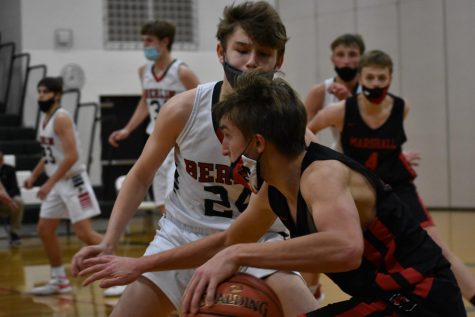 The team has also realized that there are positive things that come out of their games as well. This could be something simpler than a certain skill. 
"Some things that have gone well this season is the physical energy we bring to the table, every game is consistent," Boegh said. 
On Jan. 25 the team played Marshall at home. Although the turn out was not how they hoped it would be, Boegh was able to take some takeaways from the game.
"I think our performance offensively was weak and it reflected on the scoreboard," Boegh said. "In the second half we came out ready to fight our way back into the game, but we couldn't come out on top."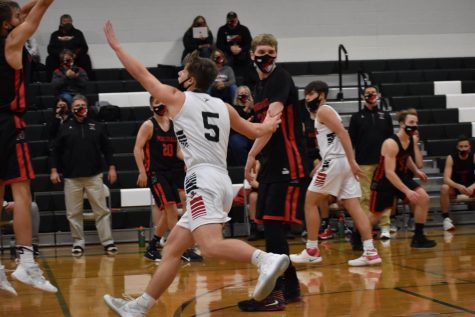 With a loss against Marshall 58-44, Batley was able to contribute some points by scoring seven points for the team. Marshall being a non-conference team and not playing them very often, Batley thought playing them made for a tough match.
"I think our team performed alright with some negative and positive things, but Marshall is a good team," Batley said.
Not only is the regular season soon coming to an end, but playoff season is in the near future. With that in mind the team hopes to finish off the season strong.
"I hope that we continue to battle and fight no matter what the outcome of the game. Our guys work their butts off in practice and I hope that we can get rewarded with a few wins down the stretch as we start the final chapter of our season," Head Coach Michael Falk said.
The team has a 0-10 record for conference games and 1-11 record overall. They will play KML on Jan. 28 at home.