Club presidents manage responsibilities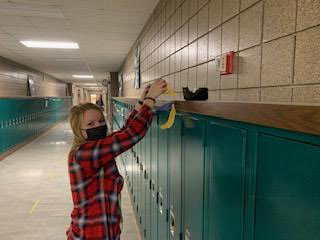 As members settle into their seats, the quiet murmur of their voices begins to die down and the meeting can soon begin. For the seniors who function as officers for clubs this is what they experience on a weekly basis. There are many different reasons a student may want to be a president of a club. 
For Student Council President Nick Chier, he says he hopes to accomplish his goals before he leaves BHS for the future student council members. 
"I want to leave a good structure for everyone else to follow. Keep a good formula because we have just been winging it every year. In general I want to make it more of a put together club and more accessible to other people," Chier said. 
To improve the club, Cheir wants to put up posters and create larger social media presence in order to better represent the club.
"I want to create a more succinct meeting structure, and hopefully a more thorough election process for officers," Chier said. 
Working alongside other classmates is a way to create friendships and build ideas off of each other. Berlin FFA President Natalie Ott is one of the few presidents that is able to go even beyond that.
"It's just kind of a fun position to have, when you are president you get to connect a lot on a wider basis with presidents across the state. I'm in a group chat with around 50 other presidents from across the state of Wisconsin," Ott said. 
This year changed a lot of regulations and normal club activities due to COVID-19. SkillsUSA President Raymond Mayotte is hopeful for members to participate in future events. 
"We could compete in competitions such as welding, engine building. This year because of COVID-19 and all the competitions getting canceled it's more of showing freshmen the basics of welding, wood working and engine building, hopefully preparing them to compete next year," Mayotte said. 
COVID-19 has also forced Student Council to cancel, reschedule or reconfigure their events. 
"I have had to do a lot of restructuring, such as fixing Homecoming, moving around a lot of dates. One big thing is moving Winterfest (now Springfest) into the spring," Chier said. 
Every year FFA has hosted FFA week at BHS with dress up days, an assembly and other activities to get the students involved. This year like many other events, it is not going to be the same. 
"We are hopefully going to start doing more COVID friendly activities. We are really banking on FFA Week for having COVID safe fun," Ott said. 
As the seniors final year of high school begins to wind down they are hoping things will go back to normal in upcoming years. 
"I am looking forward to seeing where the club goes and seeing how they handle competitions next year. I hope to keep in contact with Mr. Whilhite and Mr. Lammers," Mayotte said.