Gap between winter, spring sports allows athletes to have break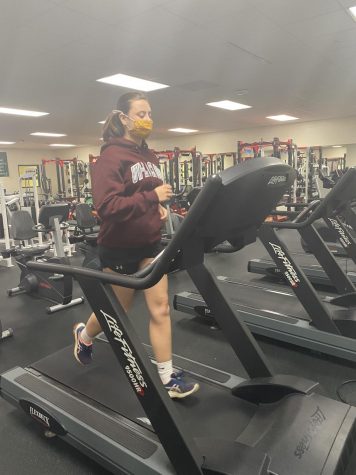 Due to multiple schools choosing to play fall sports after winter sports, all spring sports have been pushed back. Spring sports will start the week of April 19 and run into the summer. Since the school district chose to let Berlin athletes play during their regular seasons, all athletes are now in what is considered a break as they await their spring sports. 
"My break has been from when basketball ended mid-February until the first day of real track practice on Monday, April 19," freshman Jane Hoffman said. 
With this school year being different in many ways, it was not a surprise that sports would be different, too. In the past, three sport athletes would get less than a month of time before their next sport, but this year it is certainly different. Depending on who the athlete is they might like or dislike the way sports are this year. 
"I would rather play three consecutive sports in a row because I'm used to the routine of after one sport I go into the next," sophomore Wyatt Miller said.
Having this break between has led many athletes to think they won't be as ready as they usually would be for their spring sport.
"I don't really like the break because I feel like I physically won't be as prepared for track season as I would have been straight out of basketball," Hoffman said.
Many three sport athletes have never had this long of a break in between sports before. How they are spending their time during this break is different for each athlete. 
"During my time of not playing a sport, I have been working out after school," senior Cassie Coats said.
As a result of the spring sports starting later, they now continue on after the school year has ended. This can be seen as a drawback for some while others look to the positive side.
"I don't mind the track season going into summer because the weather will be nice and I'm just excited to have a normal season," Hoffman said.
Spring sports going into the summer has led many athletes to question whether or not they want to play a spring sport.
"I'm not sure if I will do softball this year, yet. Since the season goes into the summer it will be more difficult for me to get a job," Coats said. "I'll have to decide between playing a sport or saving for college."
Being a three-sport athlete is definitely not easy, but athletes who choose to play three sports do it for a reason, even if their season will look different than last year's. 
"I enjoy being a three-sport athlete because I am in shape all school year," Miller said.
As of now, a couple sports have been able to have non-required practices or open gyms. The track and field team recently started optional practices after school, both the girls soccer team and the boys baseball team have open gyms weekly, and the girls softball team has an informational meeting Thursday the 18th during CIA.