Red 'n' Green Family Recipes: Chili
Chili has been an important dish to my family for three generations. My great grandparents started this tradition by making chili every Halloween for my mother. At that time the recipe was simply tomato soup, beef, onion, beans and noodles, but when my mom continued this tradition she decided to add her own twist to the recipe. These additions include beef bouillon, a variety of seasonings, jalapeno, sugar, etc. Every year before going trick or treating my mom, dad, sister and I all sit together to enjoy this homemade stew.
Ingredients needed: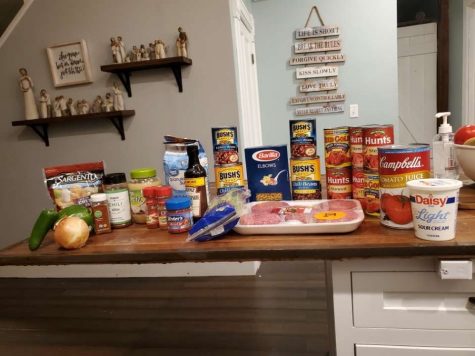 15oz Crushed tomatoes
15oz Diced tomatoes
58oz Stewed tomatoes 
46oz Tomato juice from concentrate
1lb Elbow macaroni   
2 lbs Ground beef
2 Wyler's Beef bouillon flavored cubes 
32oz Dark Red Kidney Beans
27oz Chilli Pinto Beans
27oz Chilli Red Beans  
1 Jalapeno 
1 Green bell pepper 
2 Celery sticks 
2 tbsp Minced garlic
½ tbsp Worcheshire 
1 tsp Sugar 
Salt (seasoned to liking)
Chilli powder (seasoned to liking)
Celery salt (seasoned to liking)
Paprika (seasoned to liking)
2 tbsp 100% Pure avocado oil
½ Yellow onion
Instructions:
Start by boiling half a pot of water on medium-high. Once the water is boiling add the elbow macaroni into it for 10-12 minutes or until soft. Strain the macaroni and set it to the side.

Chop the full pepper then set aside in a separate bowl.

Chop the jalapeno then set aside in a separate bowl. Take the seeds out to reduce heat.

Chop the celery sticks, and add them to the pepper bowl.

In a separate pan add two pounds of ground beef and cook on medium-high until browned on the outside. Strain meat then set aside.

In a separate pan on medium heat add your avocado oil to brown the diced onions until caramelized or soft. After two minutes add the minced garlic. 

Open every can and pour into a seperate pot. The only cans that need to be drained are the black beans, stir. Let the soup come to a boil on medium high and then simmer on low-medium.

Add the pepper, jalapeno, celery, beef and onions into the soup pot and stir. 

Add both the sugar and worcheshire to the pot of soup then stir.

Season with salt, beef bouillon, chilli powder, celery salt and paprika to personal liking. 

Stir and let simmer for five minutes, then feast!