National Honors Society welcomes new inductees
The new National Honors Society inductees had a ceremony in the Berlin High School gym at 6:30 p.m. May 19 to celebrate their success. This is one of the only ceremonies that was able to be held in person this school year. 
Spanish teacher and NHS adviser Jody Ziemann helps decide who meets the criteria, and then who gets into the NHS.
"Students are selected based on their scholarship, leadership, character and service, both in and out of school. I contact academically eligible juniors (3.70 GPA or above) after the second trimester of each year. They are invited to fill out an application form. The Faculty Committee meets after they have had a chance to read through all of the applications and then they select the upcoming members," Ziemann said.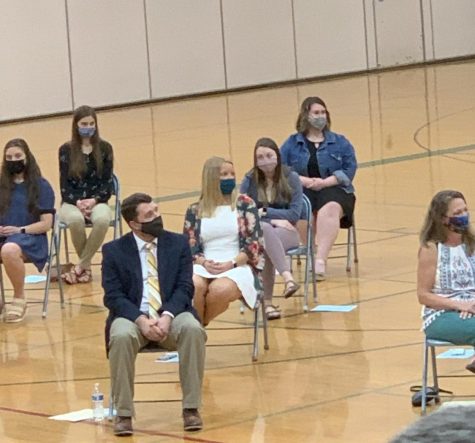 Junior Regina Schimke was one of the new members of NHS to get inducted this year.
"Since NHS members are the best students of each grade, we represent how far you can go if you put your mind to it. NHS focuses on community service and giving back, so we will always be volunteering and helping to move our school and town forward," Schimke said.
Not only does it show that the students who get accepted have good grades and leadership, it gives the students a sense of accomplishment. 
"Being accepted into NHS gave me a huge sense of pride. It showed me that the character traits I had developed during my school years were being recognized for something good," senior Julia Boe said. 
Boe was accepted last year as a junior. The students accepted into NHS also do service projects to help out the school.
 In years that the members do not have to worry about COVID, NHS does many things for the community, such as volunteering at the food pantry, organizing functions such as "Dancing to Make a Difference" and "No-Text Driving."