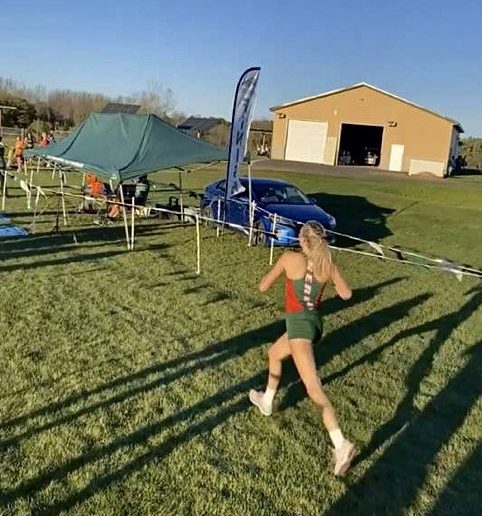 Cross team heads into final races
The cross country season is coming to an end. Conference and sectionals are some of the team members' last races, and for some of the seniors, conference was their last race.
"We had a lot of runners in high spirits because they kind of knew it was the end, and that it was one of their last races," cross country coach Roberto Lara said.
 Lara is aware that it is hard for some of the runners to say goodbye to their sport. 
"Shoutout to Erica Jones on her final cross country race, she ran a very solid time. Hannah Nigbor, we still don't know if it's her last race, but her final race was solid as well. Gabrielle Delzer knew it was her last race, but finished strong," Lara said.
Just because it is the end for some of the runners, does not mean it is for all. For Junior Autumn Young, she still has one more season ahead of her.
"We had some highlights, Autumn Young was all conference honorable mention, and Wyatt Miller placed in the top five, so he was an all conference athlete. I was very pleased with how some runners stepped up," Lara said. 
Junior Wyatt Miller agrees that runners are starting to step up for the better of the team.
"My expectations for conference were as expected for other teams. As for our team, I was really impressed with some of the guys and girls as the lower runners stepped up to fill in places," junior Wyatt Miller said.
Coach Lara had to prepare his runners for this event, especially since the team does not have as many runners as they did in previous years.
"For conference week we went easy because every week up until now has been tough because they had a lot of work in practice," Lara said. 
Runners prepared themselves in different ways.
"My preparation included drinking a lot of water and just staying positive about whatever would happen," Young said.
For this year's conference, all runners were able to participate due to lack of athletes on the team. 
"Our team is so small this year, it's different for us because I don't have to actually narrow it down. It's basically everybody who is here this year. They're so important to the team because we're so small. The bad thing about it is that we don't have any wiggle room, so it's a big responsibility if someone gets hurt," Lara said. 
The team is excited for sectionals next week, and will work just as hard as they did for conference. 
"They've been working for months now, and they finally get to show what they can do," Lara said. 
Sectionals will be held at Wyona Park in Portage. The varsity boys will run at 10 a.m. Varsity girls will run at 11 a.m.