Varsity wrestling goes 2-1 at quad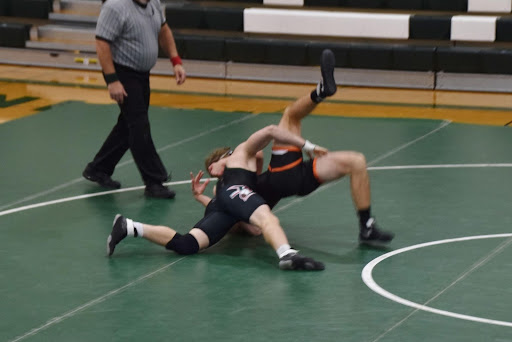 Varsity wrestling went 2-1 at their meet last night at Westfield High School on Jan. 13.
Senior Chase Kurczek had a weight class of 182, but because they are required to add two pounds as a growth allowance after Christmas break he is now in class 184. Kurczek has been wrestling for 13 years and has a win-loss ratio of 16-1. 
"My season is better than expected. It was hard mentally believing in myself and it was easy for me to score quickly," Kurczek said.
The wrestlers are led by Coach Scott Wagner who has been coaching for 31 years. Wagner gained an interest in wrestling by watching his brother while he was in middle school and Wagner decided to try it when he reached middle school. Wrestling has taught him that hard work is very important in life, and abilities don't matter. If you work, you can succeed. 
"I like that no matter how good the team is, each individual can be as good as they want, if they are willing to work hard," Coach Wagner said.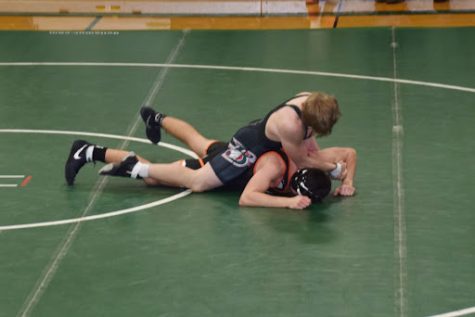 The wrestlers work on a combination of technique work and conditioning. Senior Makade Thom, who went 3-0 at Thursdays quad meet, says he tries to do what the coach says and help out the underclassmen.
Kurczek did practice his shots and ways to stay up when winning; for their meet tomorrow, Thursday Jan. 6.
The season hasn't been so easy for the wrestlers, and they have faced some challenges.
"The wrestling team's season hasn't gone as hoped. We have a lot of kids out with injuries and they didn't have many players to begin with," Wagner said. 
When the players went against Ripon on Jan 6, they lost 24-30. Even though they weren't at their best, Kurczek says the season went better than expected for him.
Their next meet is tomorrow at New London High School.