She Giants change future forever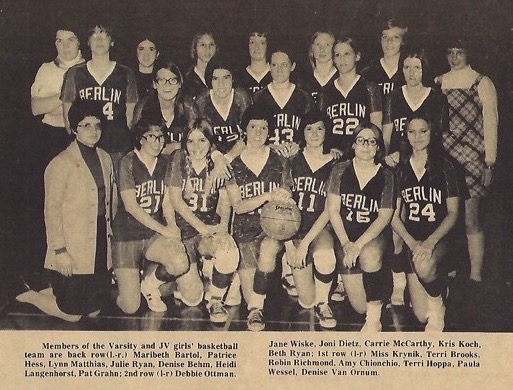 A total of 50 years ago in the year of 1972 a change was made that affected all of society, that change was Title IX. When putting this into action across the United States, schools and other institutions were required to eliminate any sex-based discriminations. Females were then allowed to take shop classes and boys could take classes similar to our Foods for Living. Sports also became an option for girls to participate in, but these changes did not come without their battles. 
Title IX is still a topic of interest to students today. Senior Kara Fritz found it inspiring enough to do in-depth research for a class assignment. 
"When Title IX first came into effect it caused a lot of differences in women's lives and men's lives. It definitely has caused women to receive similar opportunities as men and changed the way people thought about women's lives and jobs. It helped society evolve to be more equal. That doesn't mean that there still aren't inequalities though," senior Kara Fritz said.
For the women during the 1970's respect never came easy. Any equality that began to arise was fought for by much needed leaders. One of these role models is alumna and one of the first female athletes at BHS, Pat Grahn, '76.
"I was a scorekeeper for girls basketball and played on the volleyball team, and the thing I remember the most about early girls sports is fighting for everything. We fought for gym time, equipment, uniforms, credibility," Grahn said.  
"
"We received our letter, but we had no place to put or display it. There were no girls 'B' jackets, no sweaters, nothing. I put my letter on my bulletin board in my bedroom.
— Pat Grahn
After earning the right to simply be part of school-run sports, other obstacles began to become apparent, one of which was receiving an athletic uniform. The struggles the women's teams faced to get these uniforms was not simply because they were being withheld from them (although this did play a huge role), but rather companies such as Ripon Athletics had never made a woman's uniform.  
"The only reason we got uniforms is because Sandy Knit wanted to get into the girls uniform business and we were their guinea pigs. By the second year of girls sports we did not have enough uniforms for the JV team and the JV team had to wear their blue gym uniforms," Grahn said.
In the 1970's women were also not welcomed into the "B" Club. The "B" Club is a letter to place typically onto a letterman's jacket to represent a student's athletic achievements. The girls never received a letterman's jacket during Grahn's high school years, resulting in the girls finding an alternative placement for their earned letters. 
"Before Title IX the only way girls could play sports was in the Girls Athletic Association (GAA). This was also the only way a girl could win a letter: however, this letter was not considered 'the same' as ones earned by boys," Grahn said. "I can also remember earning my letter for varsity volleyball. I think this would have been around 1975. This meant that girls could join the 'B' Club. This was a HUGE debate. We received our letter, but we had no place to put or display it. There were no girls 'B' jackets, no sweaters, nothing. I put my letter on my bulletin board in my bedroom."  
Females first had to show that they were capable of participating in activities deemed masculine, then had to prove that they were serious about making this change within society a permanent one. 
"Girls sports did not fall under the realm of the BHS athletic director until 1975. Girls sports did not appear in the 'Mascoutin' until 1975. It was almost like the men thought that girls sports were going to be a phase, girls would lose interest, and it would be forgotten about. Instead girls sports gained momentum and they had to put us under the athletic director, give us more funding, more gym time, etc.," Grahn said. 
Another Berlin alumni Deb Ottoman Loham '76 spoke about how the boys adjusted to having to share gym time and other resources. She said the boys felt they were entitled to their gym time because that was the societal outlook on the manner. 
"As a freshman in the year of '72 we were excited to be playing sports, but fighting with the boys teams for equal practice time was hard. The boys didn't like us impeding on their after school practice time, but would play with us in pick up games," Loham said. "Our coaches (Sandra Krineck and Caroline Winkle) needed to be strong advocates for us. Volleyball was set up in the cafeteria. We had to move tables to the hallway before and after practice and games. It took two years to be able to practice in the gym. Two more years to have a court in the gym to play on."
It became clear women enforcing equality was not something that was going to blow over as other options for extra curricular activities become available for them. But even with a variety of sports available to them there was still room for inequalities to seep through. 
"We also only had three sports after Title IX but by 1975 girls started playing tennis on the boys tennis team. This was a huge debate! About that time we asked for softball, but that did not become a reality until 1980. Girls could not run cross country until 1981," Grahn said.  "There's a quote from  "The History of Berlin High School and the Berlin High School Alumni Association" that reads, 'We ran on the boys' cross country team because there was not a girls' team. I think it was sophomore year, 1980, at the conference meet in Omro we were told we could not run through the finish chute and our place would not be used for scoring…We rallied enough girls together the following year for a girl's team,' Karyl Robinson Hernandez, Berlin Alumna from the Class of '82. Karyl said that looking back, today she would have run through the chute, but back then she did not."
Despite all the turmoil with being a first female athlete, there were also a lot of important lessons that assisted in strong personal growth for Loham. 
"I have accomplished a few things in my life. By being a female athlete and gaining confidence in my abilities to be an advocate for myself as a now disabled citizen. I was able to supervise several large community events. I've graduated from college, coached softball, basketball, volleyball, and taught gun safety," Loham said.
As society began to shift their views on gender equality, other needed changes became evident that had to be made. One was the layout of old high schools.   
"Buildings were not planned for girls sports. At the old BHS gym built in 1955 there was a girls locker room, a boys locker room, and a boys varsity locker room. This means the boys had a special locker room just for sports," Grahn said.
When looking even further through the past at the creation of what was a brand new gym in the 1960's at Ripon College, there were similar issues with the layout of the buildings. This ultimately led to a complete renovation in 2017.
"At Ripon College their "new" gym was built in 1963 before girls sports. Recently the lack of large and quality girls locker rooms was an embarrassment and they recently built a new facility with equal locker rooms for males and females," Grahn said.
Through many generations of fighting the restrictions of gender discrimination a lot of advancement has been accomplished, but as Fritz explains the battle is not completely won. 
"In high school I don't see or deal with much discrimination against girls in sports. There has been some discrimination based on gender when it comes to college sports, though," Fritz said. "An example of this being the NCAA Women's Basketball Tournament this past year. The women in that college basketball tournament did not receive equal to what the men in their college basketball tournament did. This has caused lots of talk about equality in college sports."
Loham further explains what she has seen on a more recent basis, but is still proud of the change created through Title IX. 
"In all, Title IX opened the door for females, the disabled, LGBTQ, to be an advocate of themselves to have equality. Is the fight over? No! We can play and get paid, but equally paid? No!" Loham said.
  As society gains knowledge about Title IX a deep appreciation blossoms for the generations of women that endured years of turmoil to have equal rights, respect and opportunities.
"An early female athlete from Ripon recently told me that female athletes today are 'standing on the shoulders of giants,'" Grahn said. 
In honor of the coach that helped make Title IX a reality for Berlin, Grahn acknowledges those hard-won victories.
"My first coach, Sandra Kynik, said when she started sports for women was not about a women's lib thing, but equal opportunity for human beings," Grahn said.