Softball team starts season with new coach
For this year's softball season, physical education teacher Kimberly Strebe is replacing former softball coach Tom Breunig. Jeff Tarras, a community member, will be helping out the team when he can. In addition to being a new teacher, being the new coach is an exciting opportunity.
"Becoming a varsity softball coach has always been a goal of mine, so I knew that if I ever was offered the position, I'd take it," Strebe said.
During her high school years, she played softball in Georgia at a very competitive level and then at the University of West Georgia at a D2 level. Strebe says she looks forward to the competition that the team will face during the season. 
"I'm most looking forward to the competition we face in our conference. We have a good softball conference and I know that we have some talent on our team. I am very excited to watch us compete and help these ladies grow on and off the field," Strebe said. 
As the softball team has had many coaches come and go, this leaves the team having to readapt. But for senior Allisa Smoody, she finds the transition to not be difficult. 
"It depends on who the new coaches are and how they interact with the players. For softball, it hasn't been difficult to adjust because coaches communicated and got along well with the team. I think building a solid coach-player relationship is important to enjoy the sport you play," Smoody said. 
While Smoody looks on the bright side of things, Strebe faces the struggles she might have during the season.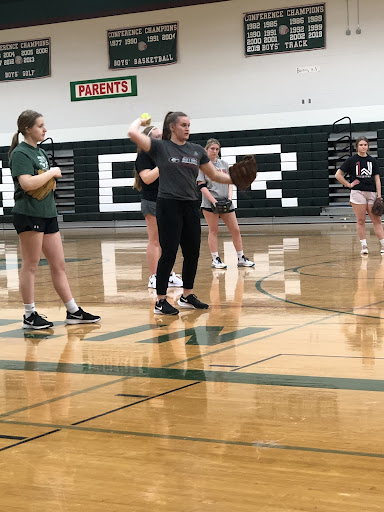 "I think the biggest struggle I face besides being a first-time head coach is not having a coaching staff behind me. I knew this year had some very unexpected circumstances, and I didn't want to rush to try and put together a coaching staff. My goal for the next season is to build a strong coaching staff that's going to also help build the program," Strebe said.
Despite the challenges of being a new coach, Strebe has many goals set in mind for the team and for herself.
"As a team, I want to focus on quality at bats and smart base running. I think sometimes in softball, it's the little things that will win you games, and I want to focus on those little things," Strebe said. "As a coach, I want to help instill confidence in these ladies and help them succeed not only in softball, but in their everyday lives."
While Strebe has made her plans for the season, other players on the team made some goals of their own.
"Some of the goals I have for the team are to have a better batting average because we've lacked batting skills for the past few years. Another goal would be to grow as a team and individually," Smoody said. "For myself, I have to be able to squeeze bunt and have minimal past balls as a catcher. Defensively, I'd love to be a wall at both third and catcher."
In preparation for the upcoming season, softball has had an open gym for the past couple months, taking place on Sundays. The season officially began on March 14 with the teams first game on Wednesday against Winneconne. 
"I am very excited and blessed for this opportunity and I cannot wait to begin this coaching journey," Strebe said.