Johansen retires after 28 years of teaching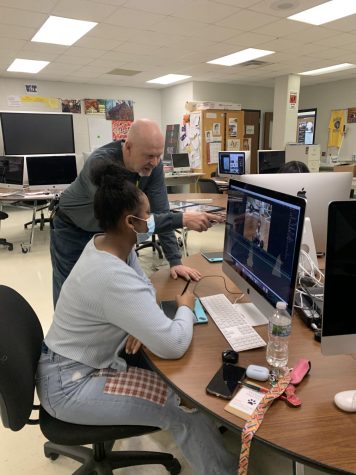 Technology & Engineering Teacher/Department Chair Joel Johansen will be retiring at the end of the school year. Although he will no longer be teaching, Johansen does not plan on sitting still. 
 "I will be making custom furniture in my shop at home and I am looking forward to my first hunting trip out West. I am the kind of person who is most happy when I'm working, so I will not be retired, just moving on to something else, something without freshmen," Johansen said.
Johansen has been teaching for 28 years. He spent eight years in Oconomowoc and 20 years teaching at Berlin High School.
"I will miss the interactions with the students here the most. Classroom time is the very best thing about teaching," Johansen said.
Senior Bryce Werch acknowledges Johansen's intelligence within the classes that he teaches.
"I took Furniture Design and Cabinet Making with Mr. Jo as well as a graphic design class. He has made my learning experience much better because he is so knowledgeable about what he teaches. There was never a question I asked that he couldn't answer," Werch said.
Johansen is very experienced in the classes he teaches, as he has been teaching them for many years.
"I've taught every shop class here except the electronics class, so woods, metals, construction and graphics," Johansen said.
With Johansen leaving, some changes will be made throughout the Technology & Engineering department.
"The department will be changing a little as we will be moving some sections of Mr. Jo's classes around to either myself, Mr. Willhite, or another teacher next year, but we still plan on offering all of the same tech ed classes moving forward," Technology & Engineering teacher Bryan Lammers said. 
Lammers can see how Johansen has been an asset to the school, students and community.
"Mr. Johansen is a great teacher that genuinely cares about his students and their future success after high school, and he has an incredibly high passion for what he teaches. He is a great asset to our school and our community and we are going to miss having him here at BHS," Lammers said.
Werch says he admires Johansen for the lessons he has taught him. 
"I have a ton of respect for Mr. Jo and am so happy he was a part of my learning experience," Werch said. 
Johansen would like to leave with advice to a teacher that may take over his position in the future.
"As a teacher you have been given the responsibility to train someone's kid, they are trusting you to do that. T ake it seriously and do what you can to make someone's son or daughter more skilled than they were before they met you. Don't just keep them busy, teach them," Johansen said.