Ragus hosts last blood drive as Student Council adviser
This year, Student Council members took charge of the annual blood drive and concluded with 23 total pints donated and 36 sign ups. Adviser Ann Ragus has helped out the Community Blood Center for over 25 years. 
"I am resigning from being the Student Council adviser after this year so I will no longer be doing blood drives," Ragus said.
The blood drive always has a good turn out with this year having many first donors including senior Katelyn Piechowski.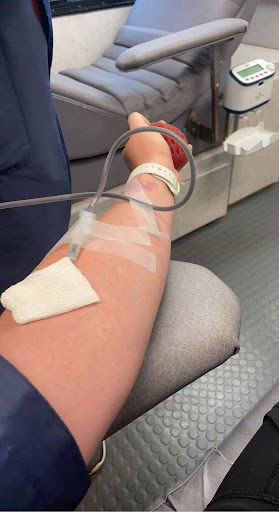 "I was not as nervous as I thought I would be because I have gotten my blood drawn before but never donated. It was something I always wanted to do since my great aunt donates to local centers and has told me about her great experiences. Not only was I helping others out, but I will get to figure out my blood type and donate in the future," Piechowski said. 
Saving lives is the largest factor in why blood drives exist. It is always encouraged by friends and family, to donate and help save a life. 
"The biggest takeaway is saving lives. For every pint donated, there are three lives saved. It is a wonderful way to help others. Blood drives are extremely important for hospitals. Without blood drives, people would not be able to have surgeries," Ragus said. 
Although it may seem simple to donate blood, as someone can just sign up, the process is much longer.
"I went back to  one of the hallways and the volunteers asked multiple questions and handed me a clipboard with an informational packet to look over and then give my consent. Afterwards, I waited until there was a time available for myself to get onto the blood bus," Piechowski said. "I was pulled into a seperate room to review the packet and was asked more questions to see if I was eligible to give blood. They pricked my finger as well to see the iron levels to make sure I wasn't anemic. I was given water and snacks before beginning the blood draw. After the whole process, I did feel sick and tired for a couple of hours."
Even though Piechowski faced some side effects, overall, knowing she was helping save someone made it worth her time. 
"This was an enjoyable experience and I encourage everyone to donate blood at least once in their life," Piechowski said.