Girls swim team competes at conference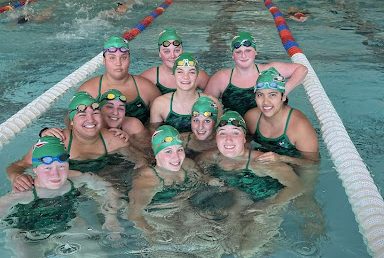 Although the girls swim team is low on numbers with twelve swimmers, they have been doing well at every meet.
"We have been doing pretty good this season. Everyone is making progress in their events and we do pretty good at every meet we go to," junior Brianna Pacurar said.
By making goals it allows the team to have something to work towards which pushes them to try harder.
"A personal goal is to make it to state my freshman year or to get somewhere close to a state time," freshman Kyla Manata said.
Manata's main events are the 200 IM,100 breastroke, and the 200 medley relay and 400 free relay.
At the very beginning of the season the team started off strong and placed at their meet against Plymouth and Kiel.
"As a team we got second place at our first meet of the season," Pacurar said.
With every sport comes some challenges that need to be overcome.
"I think something our team struggles with is how little our team is, but we still manage to push to our hardest no matter what," Manata said.
The team has been productive at practices which results in success at the meets.
"The team has had a few bumps but we are getting better as we do more meets and go harder at practices," junior Reese Nowicki said.
The team took third place overall at the conference meet on Saturday October 29. Petyon Zamzow won the 50 freestyle, and Kayla Mananta placed third in the 200 yard IM. The 200 yard medley relay consisted of Caliber Hartzke, Kyla Manata, Brianna Pacurar, and Peyton Zamzow took second place and the 400 yard freestyle relay consisted of Calibert Hartzke, Reese Nowicki, Brianna Pacurar, and Kyla Manata took third.