Academic Breakfast Awards recognizes student achievements
Every year, students that have demonstrated academic achievements receive awards at the annual Academic Awards Breakfast that took place on November 8. Students in the grades 11 and 12, gathered in the auditorium for the program.The program began at 7 a.m. with breakfast that was provided by the Food Service students with F/CE teacher Whitney Keyes, and then followed by the awards starting at 7:25 a.m. This program was first developed by the Student Council during the 1987-1988 school year. 
"They first called all the juniors that received their letter. Next, they called all seniors that received their first bar and lastly, all seniors that were awarded with their second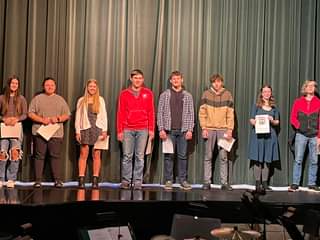 bar," senior Cindy Liu said.
The awards are separated into three categories: academic letter, first bar, and second bar. These points are accumulated all throughout high school but won't earn enough until their junior year. To earn a letter, students must accumulate 12 points. After students have received 12 points for the letter, students will then earn a gold bar for every additional six points.
3.8 and above: three points for superior honor roll
3.2-3.79: two points for high honor roll
3.0-3.19: one point for honor roll
"I received my first bar. It felt like I accomplished something and all the study time I put in for tests was shown in my grades. It made me feel like my effort was seen," Liu said.