Weiske family raises money for 'Operation walk for graduation'
Special education teacher Debra Weiske is Ripon senior Ella Weiske's mother. One wish the family has is to get Ella to walk across the stage for graduation on May 27, 2023. Due to her medical condition, cerebral palsy, this has never been something that they thought could happen.
"Ella was born at 26 weeks gestation and spent 82 days in the NICU due to her preterm birth. She was 2 pounds, 2 ounces when she was born. As a result of her early birth, before we left the NICU, she was diagnosed with cerebral palsy," Weiske said. "Cerebral palsy is a condition where your brain does not tell your muscles what to do. Ella has septic quad cerebral palsy which means that all four of her limbs are affected: tight arms, legs, hands, fingers, toes, etc. She needs full assistance with all daily activities."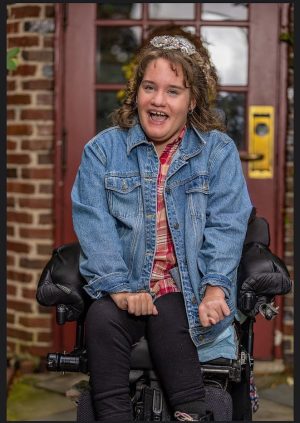 According to the Centers for Disease Control and Prevention, cerebral palsy means, "a group of disorders that affects a person's ability to move and maintain balance and posture." 
In order for Ella to walk across the stage for graduation, her family has done some research and looked into the use of robotic technology. The company that the Weiske family will be using for Ella is called Trexo Robotics.
"The robotic legs are out of Canada. Custom built legs will take around six weeks to make and then four weeks to ship," Weiske said. "The beauty of the robotic legs is that they allow Ella to take steps on her own accord with her own muscle and strength and when her muscles tire out then the robots take over and help her to keep on keeping on." 
Click here to see how the Trexo Robotic legs work. 
Even though the Weiske family has this planned for Ella, the journey leading up to the final day is not easy. 
"Ella does physical therapy in Oshkosh at Fox Valley Physical Therapy and Wellness once to twice a week. We call it 'Operation walk for graduation.' Lots of stretching of her muscles and standing so that when the legs arrive she is able to comfortably move her muscles along with the rhythm of the robotics," Weiske said. 
Even though the journey will be long, Ella says she looks forward to the outcome.
"I am most looking forward to being able to walk a longer distance than what I normally can. I want to be able to be more independent," Ella said.
Through an online program called "Hope, Help, Live," the family has begun to raise money for Ella to receive the robotic legs. The ultimate goal of the fundraiser is $40,000, making the legs long-term for her. Trexo Robotic is giving Ella the opportunity to use the legs as her life continues. 
"This is a lifelong investment for Ella. If we are lucky enough to meet our goal, we can't wait to take family walks with her and our golden doodle dog, named Crosby," Weiske said. 
The journey has only just begun for the Weiske family but they could not be more exhilarated for what is to come next.
"We are so grateful for everyone's kindness and support. The journey when you are raising a child with a significant physical disability can be a hard one. I have realized that it truly does take a village, a team, if you will, of love and support to make it through each and every day," Weiske said. 
On a final note, Ella has something for everyone to know.
"My journey has been a hard one.  Every day is a struggle for me with something. I want everyone to know to never take one single step for granted that you are able to take."