Art II sends ornaments to state capitol
Art teacher Lori Rademann's Art II class was given the opportunity to make ornaments that were sent to Madison to be displayed on the tree in the Capitol. This is not the first time the art class was given a chance to send an ornament in, but this is the first time the class has actually sent them in.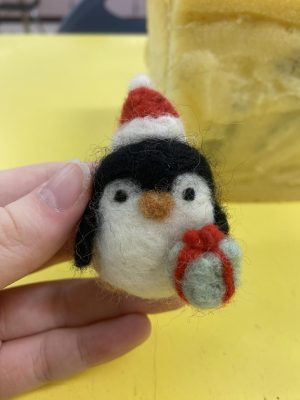 "It seemed more like an elementary school thing to do, but it was a very quick project for the students. They made the ornaments in about a day and it helped fill the gap when they weren't doing anything. It is an instant gratification for the holidays," Rademann said. 
In order to send the ornaments to Madison, there were a few criteria the students had to meet. 
"The ornaments had to be non-breakable. We used felt to make the ornaments and they were supposed to be bright colors to stand out on the tree," Rademann said. 
According to sophomore Melanie Resop, the ornaments were very simple to construct. Resop made a penguin to send to Madison.
"You take the wool and use a needle that has grips on the end of it and felt the wool together," Resop said. 
The process to ship the ornaments was straightforward, the ornaments were placed in an envelope and shipped off to Madison. Due to the number of ornaments that are sent in, not all can make it on the tree. The excess ornaments will be displayed in nursing homes. Both Rademann and Resop say this opportunity was rewarding. 
"Giving these ornaments away is easier because they don't take as long to make. It is hard sometimes giving away things knowing you won't get them back, but it is nice to be part of something bigger than the school," Rademann said.