Bucholtz-Wizner barrel races competitively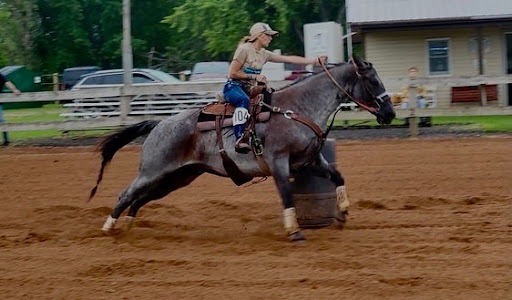 Senior Hannah Bucholtz-Wizner, has been barrel racing since she was eight years old. She found her love for the sport when stepmom, Hannah Wizner, introduced it to her. Bucholtz-Wizner has had success while competing such as winning a buckle in 2016 in her first serious competition. 
"It feels nice knowing that you can accomplish things and it gives you a pretty good feeling,"  Bucholtz-Wizner said. 
The feeling of accomplishment and success is experienced by both Hannah and her stepmom. Wizner's favorite part is watching her stepdaughter at the horse shows and watching her improve.
"All of the work that she put into it at home, really came through in the showring," Wizner said.
 Bucholtz-Wizner recently got a new horse and is trying to get it trained to be a competition horse. With wanting to achieve goals with her new horse comes struggles.Wizner finds it hard to work with the horses when they aren't cooperating or tend to be moody.
"Training can be really hard since our horses are new to the sport," Bucohltz-Wizner said. 
Training horses for barrel racing also takes time. Horses have off days just like people do. When a day doesn't go as planned, the schedule gets set back. 
"Challenges with Hannah would be finding and making time to keep the horses in shape," Wizner said. 
On top of the time it takes, it also can be very costly to support the sport. These expenses come from gear, entry fees, veterinary services, training gear and transportation. 
"It's definitely not a cheap sport. If you count feeding and boarding of the horse it goes up to 2,000 dollars a year per horse," Wizner said. 
After all of that, it is all worth it for Bucholtz-Wizner. She has made many memories throughout her riding working with her horses and winning prizes for her hard work.
"I feel happy when my horses cooperate and know I can accomplish what I work towards," Bucholtz-Wizner said.