Teens2work attends job fair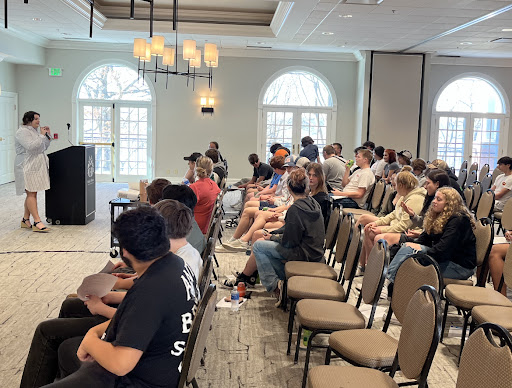 As summer approaches, many high school students are looking for summer jobs. The Teens2work program attended a job fair at the Heidel House on Thursday, April 13. The job fair hosted different businesses looking to hire for the summer. The job fair also had many booths that taught what to do in an interview and how to use money responsibly.
"I learned how to invest, how to correctly answer questions when interviewed, what is appropriate to wear, and what is appropriate for certain jobs," sophomore Caliber Hartzke said. 
The job fair expressed the importance of putting money into places where it will grow. The booths discussed the difference between types of bank accounts and ways to invest.
"We were taught how to split up saving and spending money and [how] to invest throughout your life so you can have a retirement plan," Hartzke said.
The booths also discussed appropriate dress for an interview and discussed what goes into writing a resume.
"We were shown different writing formats and taught how to list work experience skills and achievements professionally," freshman Collins Ware said
Ware did not find the job fair as useful as others. Age is a challenge that high school students face when looking for a job.
"It's difficult to choose one of these jobs because most jobs hire at 16. I won't be 16 until September which makes finding a job more difficult," Ware said.