Trap team increases numbers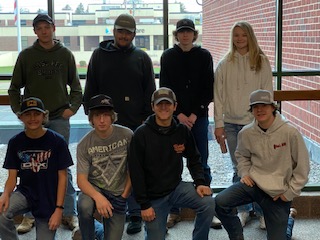 Trap is a sport and pastime that has become more popular at Berlin in recent years.The team currently has eight Berlin members. In trap, clay targets are shot out in multiple directions, and participants try to shoot them to get a score. There is both an individual and a team score that are taken as an average. The team's most recent team score was 239-236 against Oakfield.
The trap team is a combination of students from Berlin, Green Lake, and Ripon. They practice repetition shooting at the local conservation club, with coaching on Saturdays and Mondays. Along with those days, there is open shooting on Sundays, Mondays and Tuesdays. One of the coaches is special education teacher Mark Trampf, who has been part of the team since 2012. 
"Anybody can do trap. You can be tall, short, young, old. It's also not just a sport, but something people do for fun. The only downside is it's very expensive," Trampf said.
Buying the gun itself is fairly expensive, depending on the brand and type. Buying ammo and targets is also necessary. Depending on the club, there is most likely a cost per round trap shooters have to pay.
"I probably spend close to $1,000 to $1,500 a year," freshman Brayden Flannigan said.
During meets, high school teams shoot single trap. Players shoot 50 rounds at each meet, with 25 clay targets that fly out every round. Junior RJ Gropp has been doing trap for seven years now, and has gone to many meets. Gropp also ranked third overall in the country.
"I like winning, and I have a trap range in my backyard so I can basically practice whenever," Gropp said.