Teachers create conversation with student dress up day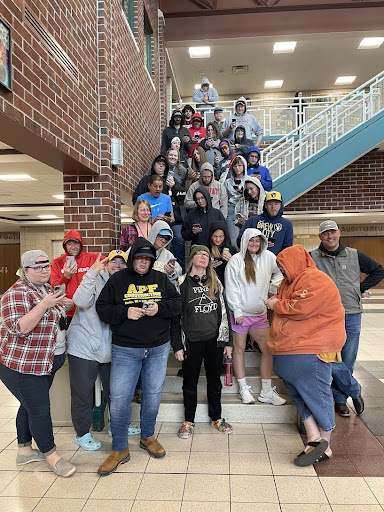 The teachers not only dressed like students on Friday, April 28, they acted like them, too. 
"Mrs. Clark wore a crop top and jeans. She also had the students lead the class while she played on her phone," sophomore Aleea Lichtenberg said.
The winning prize for best dressed was a 25$ Walmart gift card, which went to special education teacher Suzanne Wood.
"I'm planning on spending my winnings on supplies for my classroom," Wood said.
Many teachers accomplished the looks and attitude of a teenager in high school.
"The teachers dressed up like the hicks, or the kids who get in school suspension," senior Harmony Geier said.
While the students thought the dress up day was funny, some say it made the school day go faster and seemed more laid back.
"It seemed more chill, and less stressful because you could kind of relate to the teachers," sophomore Olivia Faulkner said. 
Students say they want to see teachers do other themed dress up days in the future.
"I think dressing like your parents day would be funny to see," Geier said. 
The overall reaction of the students was positive.
"I really enjoyed this dress up day, and hope to see the teachers do this again in the future," Faulkner said.