Garza wins talent show
Senior Shaddia Garza won the talent show singing "No Pares" by RBD on Friday, May 12. 
She sang her song while playing maracas. The song had a challenging part in the end where Garza had to sing very high. 
"I am a soprano so it's not that hard, it's just the nerves and everything. You just get nervous before a performance so I'm really glad I was able to do that on stage," Garza said.
The talent show was put on by the Drama Club with adviser Jairo Granados.  
"The idea is that students who might not participate in choir or band or might not be able to showcase their talent will be able to do it," Granados said. 
There were 10 acts and one special guest, English teacher Andrew Riese, that performed. Junior Mataya Raisleger got second place with a dance routine she choreographed, and senior Anna Shumacher earned third with an original song.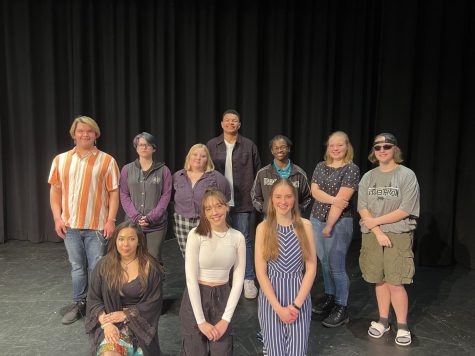 "I'm thankful for the opportunity to perform," Schumacher said. 
There were many different acts including singing, dancing, story telling, and solving a Rubik's Cube. Everybody performing had certain strategies to rehearse before the show. 
"I practiced my singing with the new music teacher Ms. Lane," sophomore Zeath Hoinacki said. 
Everyone performed, but there were some close calls on stage. 
"I almost messed up," freshman Aubrey Meyer said. Meyer took on the persona Chaddius and solved a Rubik's Cube. 
The winner of the talent show gets $75, second place $50, and third place $25. 
"I'm into conservation, so maybe I'll just donate it to a conservation organization," Garza said.