Softball season comes to an end
The softball team currently has a record of 1-18. 
"Despite our record, games have gone well this season. For the most part, our hitting has increased from last year to this year. We've also decreased the number of errors made in the field," Head Coach Kimberly Gensel said.
The team has struggled with taking control at the mound and in the field over the course of the season.
"As a whole, we lack self confidence. It's a challenge to stay positive through tough games," junior Lucy Marks said.
During practice, they work on any struggles that were shown in previous games.
"If we struggled at the plate, we'll work on hitting. If we had several errors or there were situations in the field that need to be addressed, we'll work on fielding," Gensel said.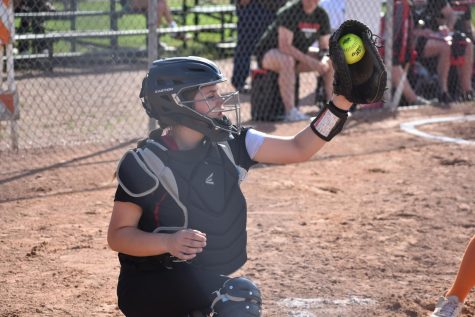 With the season coming to an end, the team is already talking about how they can improve for next season. Laurel Miller, one of the two seniors on the team, wishes the best for her team next year.
"I hope more girls will try to join softball next year, and those who are already in softball continue to work hard and enjoy themselves and their team," Miller said. 
The team's last game is tonight at 7 at Marian University.