Students make plans for summer jobs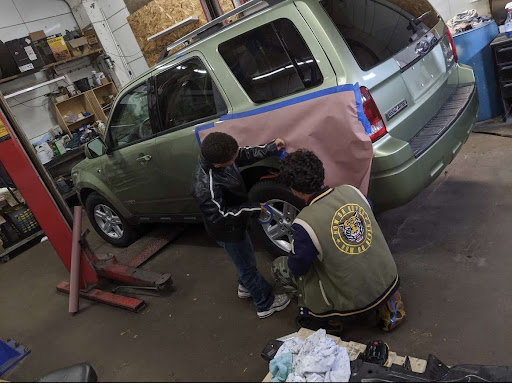 After the school year ends, many students apply to have a  summer job. Some students work for enjoyment while many work for the paycheck attached. 
"I plan on working a great amount of time to build up money for my college tuition,'' sophomore Eliel Abreu said.
Some kids are already getting a head start with the job they want to continue with after they graduate high school.
 "I plan on making this job my permanent career. I enjoy working in this field of body work," Abreu said.
Abreu has the unique advantage of having his dad as his boss.
"Eliel as an employee is always striving to learn something new. Very fast learner. He takes his time when it comes to bodywork and painting. As a parent I am very proud that he is interested in the work that we do together," Jefte Abreu, Jr. said. 
Working on cars takes skill, and with any skill, it takes a lot of practice and hard work to get better and become a professional.
"I'd say that level comes with more experience in this profession. This summer we will see how he does when it comes to spraying different types of paint," Jefte said. 
Working a summer job opens up the opportunity to meet new people and experience new things.
"I get to help out other people while also doing lots of hands-on work," Eliel said.
Students normally switch jobs throughout their high school careers, while some stick with their job post graduation.
"I've been doing this job for about three years, and I plan on making this my future career," Eliel said.
Having support for what someone wants to do makes a side job more likely to become a career.
"I support my son in anything he wants to do. In this trade and with my personal experience in this field, he will have all the support mentally and physically to have the proper skills to be better than I am in this trade. He is well on his way," Jefte said.