The varsity volleyball team currently has a record of 18-6, including tournament games. They recently had their first non tournament loss against Waupun on September 7.
"We've adopted this idea of getting better every time we play, so win or lose we've been using that to stay positive. The team is also very supportive of one another," Head Coach Eydie Reiser said, "As a whole they are also more confident in themselves, they're really owning the work they've done and recognizing that what happens on the court has to do with us."
The team relies heavily on upperclassmen with seven seniors and seven juniors. They also have three team managers, two seniors and one junior. Without any new members from lower grades, the girls have gotten to know each other and even become close friends through playing. 
"I love the sense of camaraderie I have with my friends on the team. I think it's great to have that protected time with your friends while also playing a sport," senior Camille Bruce De-Muri said. 
The team lost  19-25 in all three games during Thursday's game against Waupun on September 7, but the girls felt supported and were able to remain positive because of one another.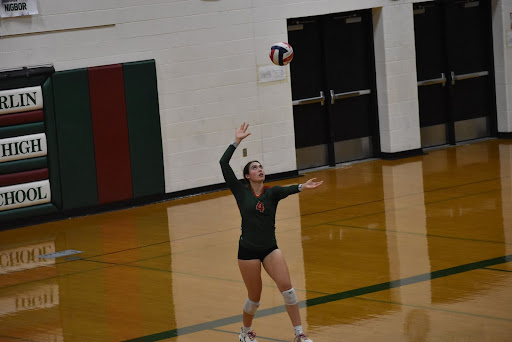 "I think we were just a little off that day and we weren't really connecting, but it was just a minor thing and I think we can get past it," senior Claire Bartol said.
The girls have been working to improve their skills during practice to better themselves as a whole team.
"We keep our fundamentals intact, we also try to incorporate high energy things to keep us moving as well as mixing in things we need to correct on top of making our strengths even stronger," Reiser said.
With the season officially underway, the girls have a pretty solid start.
"We've had a lot of success so far this season and I hope to see it continue," Bruce De-Muri said.