A closer look at a musician's life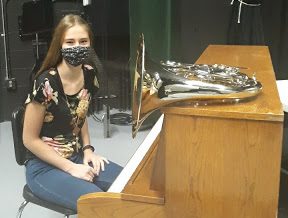 Sophomore Anna Schumacher has been playing a variety of instruments ever since she was young.
Investing countless hours of practicing, she is now able to express her music passion with other people.
Schumacher currently plays seven instruments: the piano, french horn, trumpet, guitar, mellophone, ukulele and flute.
"I enjoy playing. I plan to go into a music career, so it's relevant and also a valuable life skill," Schumacher said.
Her passion for music happened naturally over time.
"Anna started playing piano at a very young age. I was her first teacher. She started early because she wanted to do what her big sister was doing," Anna's mother Kathy Schumacher said. "I didn't see her passion develop until she started band and then had an opportunity to take voice lessons. She has also been involved with drama from a young age, participating in Missoula Children's Theatre twice a year."
Both Schumacher and her mom came to agree that her schedule is extremely busy despite COVID restrictions. Additionally, Anna currently is teaching piano and guitar lessons to two other students.
"COVID has me less involved, but I teach kids and take lessons on top of academics. Life gets overwhelming, but I find that music helps me vent," Anna said.
Outside of school, Anna attends lessons with piano/voice teacher Jessica Fritz. Fritz has been teaching Anna for 3 ½ years.
"Lessons are 30 minutes a day, one day a week and we alternate voice and piano," Fritz said. "She sings and plays piano very well. She practices very well which is always a good thing. She takes it seriously and always tries her best. I've taught kids for over 20 years, and Anna has a natural talent that I rarely see. She plays and sings with emotion and feels the music, which is something that can't be taught but is just felt. She is a talent!"