Clinch grows YouTube channel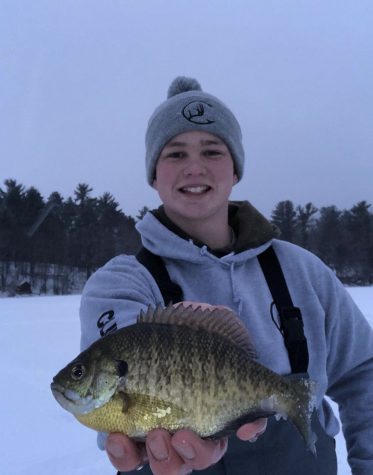 Junior Jaron Clinch has always loved to be outdoors, spending time with his friends and family  and doing what he loves. Hunting and fishing has always been a large part of his life. In the beginning of 2020 he decided to create a YouTube channel called "Clinch Outdoors" to share his passion for others. "I do not recall watching a specific person and saying, 'man I want to do this.' In fact, I didn't truly start watching other channels until after I started my own, and all of us creators do this to bounce ideas off of each other and see what other people are up to in their editing and content game," Clinch said. "In order to stand out, you need to keep up with others at the bare minimum, and to actually be noticed you have to be 100% original and do your own thing which is hard since there's so many trying to do what I am doing."
Clinch's friends have always been there to support him from the beginning. They say that if Clinch likes to do something he is extremely dedicated to it. 
"I didn't really know what was going to happen when he started the channel, but I knew he was very dedicated so he definitely has earned everything that he has gained to this point," junior Bryce Werch said. 
The "Clinch Outdoors" channel grew very quickly. After Clinch hit 1,000 followers on Instagram, he decided to make t-shirts. Later, he then made a plan to start designing sweatshirts and other merchandise. 
"Omro junior Hunter Hounsell and I put a ton of time and thinking into the sweatshirts to make sure they were exactly what we wanted. This was kind of a big deal and over 30 people were about to be wearing one, in different cities, too," Clinch said. "My plan for hats was to just get one for myself and wear it around as a demo, but once I posted a picture of it people thought it was the coolest thing ever and everyone wanted one. So I ordered them right there that night, and they sold out within a couple days. Now I just came out with a beanie collection, and I also have car decals."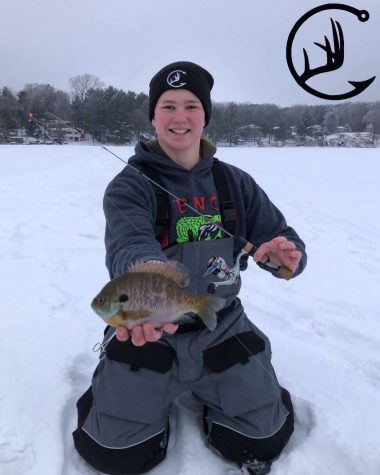 Clinch's friends help him out with some videos, and sometimes they go fishing or hunting together and make a video about it. 
"I film for him sometimes and take pictures of him with fish. Some of my favorite videos are the ones with me in it, or I really like when he takes the boys fishing because those videos are funny," junior Tyler Johnson said.
The support Clinch receives makes the channel a lot more enjoyable. 
"All of my friends at school and from different cities who support the page and channel, make me really grateful because without them it would be a lot less fun. People don't understand how awesome it is to get a text from someone saying 'hey awesome video' or seeing someone at school and they ask when's the new video coming out. Sometimes that is the kind of stuff that keeps me going, because it's easy to get burnt out once in a while," Clinch said. 
The channel has grown and caught the attention of many different companies. Clinch is incredibly grateful for all the real life lessons these brands have taught him.
"I am on many pro staffs including Venom Lures and Monsterbass, but have only had a few sponsorship opportunities. Being on a pro staff is when you get a discount off a company's product, and in return you promote them by using and talking about their products trying to persuade viewers into buying that product," Clinch said. "Usually companies will watch you for a bit to get a good understanding of what type of person you are, and then start slowly and see how you do, and go on from there. They help me out a ton because it saves me money, teaches me about business, links me to other people and companies in the industry, and just gives my brand a more professional look which will interest other companies eventually opening up even more sponsorship opportunities."
With new videos coming all the time "Clinch Outdoors" attracts many new viewers. For new viewers they can expect to laugh and learn new tips and tricks to make their fishing or hunting more successful. 
"Viewers can expect to see huge improvements in editing and camera work, which have gotten a ton better now that I got a new camera. Otherwise, they can expect to see what it's like to have an extreme passion for something, catch some fish, shoot some animals, and have a great time with whoever is featured in the video. You can also expect to learn new tactics, and ways of doing things and how I find and catch fish which I have been adding in a lot more lately," Clinch said.
Clinch makes many different types of videos and he is always trying out new things. He wants his viewers to learn new things while also making the videos incredibly amusing. 
"My favorite videos to make are the fishing vlog style videos because I feel like I am more tuned in to the viewers and I think they like it better too because I always explain what's going on so there's no confusion. I like the straight edits once in a while, but I like the vlogging better because it's much more personal to the audience watching," Clinch said.
Clinch has been working hard on his channel for about a year. He is very passionate about what he does and viewers can expect to see that when watching his videos. That being said, Clinch has had some struggles growing his channel to what it is today. 
"YouTube can be the most discouraging thing in the world, and sometimes when you're starting out, it may feel like you're all alone and it's just you and your channel. But you have to have a drive if you want to be good at YouTube. It's a ton of time, energy, lots of money, stressful, full of late nights, thinking things through, and learning and if you're not up to that, it's probably not your thing," Clinch said. "After all of the work I have put in: editing until 2 a.m, spending hundreds of dollars on camera gear, being on top of a school of fish and sacrificing catching fish to make sure I get pictures for Instagram and good video for YouTube, doing giveaways, worrying about camera equipment every time I go do something, batteries dying, forgetting SD cards, setting up tripods, and all the other stuff I deal with, I am still pushing myself every day."