Key Club elects new officers
Key Club held their annual elections for officers on Monday, February 8.
"We have the treasurer, secretary, president, vice president and webmaster, they are the ones that help us run our social media and help us run if we have a website or anything like that. Then we have the bulletin editor. They send out monthly bulletins about what we're doing," Key Club Adviser Tara Chesebro said. 
The only position that ended up not being filled was treasurer because the nominee dropped out of the race. The elections concluded with sophomore Anna Schumacher as President, sophomore Brenna Mosier as Vice President, junior Kaden Fritz as Secretary, sophomore Katelyn Piechowski as the Webmaster, and junior Sophie Ryf as the Bulletin Editor. 
"I have to be the 'bookkeeper' in a way. I need to keep records, I need to keep attendance and meeting minutes, plus a couple of other odds and ends," Fritz said. 
Key Club holds elections in the middle of winter, which is a lot different than other clubs like Student Council which holds elections at the end of the year. 
"We used to hold them earlier in the year, but the Key Club year actually starts when we have our district convention called DCON. We're supposed to have our board elected by the time DCON arrives and it's in the next couple weeks," former Key Club President Lindsay Mularski said.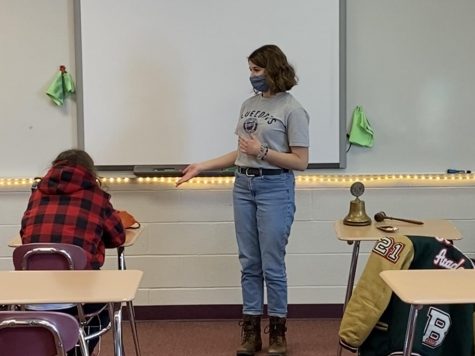 At DCON, students listen to keynote speakers and participate in workshops to be better members of Key Club. Members are also able to participate in events specific to their grade or position they hold.
Holding elections in the middle of the year also helps former board members acclimate the new board members into their positions.
"We always do it in February because that is what the Key Club International suggests so that all of the positions are able to help their new officers until May," Chesebro said.
Key Club welcomes new members anytime.
"Anybody is welcome to join. We are a group that likes to do community service; we help volunteer our time. We aren't able to do as much with money this year, but we are still able to volunteer our time if anybody has anything for us," Chesebro said.