KIND Committee hosts Kindness Day
The KIND Committee did a variety of activities including giving gifts, chalking sidewalks and putting kind notes on cars. On May 11, they teamed up with businesses in the community to spread kindness. 
"We chose 20 people to receive special gifts (a mug and a key chain) in our community that display exceptional kindness," KIND Adviser Ann Ragus said. "But what was even better is that we gave them two gifts and they needed to "pass it on" to someone they felt displayed exceptional kindness. So, instead of 20 people, we showcased 40 people."
Through Kindness Day, students and staff were able to reach out to many people in the community. 
"The goal of kindness day was to do something kind for the Berlin community. By businesses and other people joining in, it was a great way for community members to show their support for the small businesses of Berlin," sophomore Ann Schmitz said. 
The idea did not come from the KIND Committee, but rather from an employee at Thrivent Financial. 
"The original idea came from Thrivent Financial in Berlin. Cathy Hargrave initiated the idea and a team met numerous times to solidify all the ideas and plans. It was great to collaborate with Thrivent and local businesses to create Berlin Kindness Day. Our plan is to do it annually," Ragus said. 
People took on many different roles and responsibilities to organize Kindness Day. It took many people to organize the event. 
"My role was to be a team player and make sure my assignments were completed after all of our meetings. I was in charge of having someone help with creating a logo and advertising. We also ordered the giveaways for our Community Kindness Superstars," Financial Adviser Cathy Hargrave said.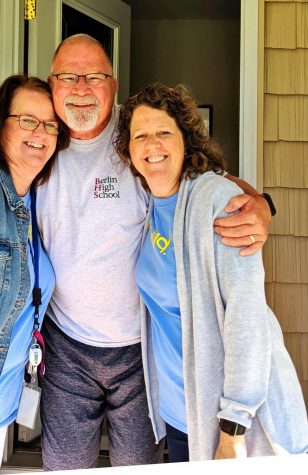 Participants in Kindness Day say they hope that they made an impact on people in Berlin. 
"I hope people will see how many outstanding people we have within the Berlin community and that a little kindness goes a long way," Schmitz said. 
Advisers want students that participated to have this moment live with them and take the lessons they learned with the students in the future. 
"Our hope is that students and people who participated understand that kindness is free. You don't need to be rich to be kind. Just saying hello to someone is enough some days," Ragus said. "We also hope that with a little bit of kindness our world will become a happier, healthier and safer place to live."