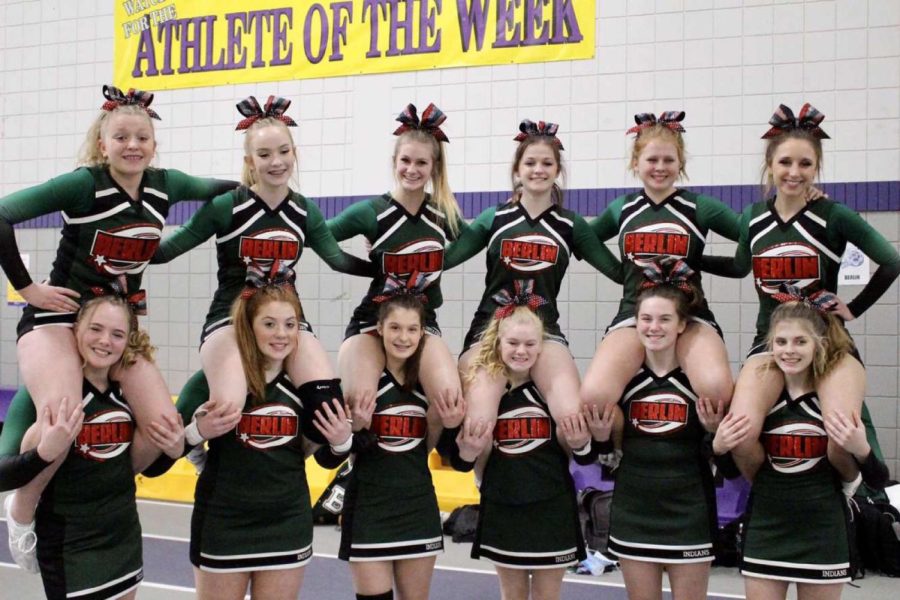 Cheer team begins competition season
January 21, 2022
 Cheer team begins competition season
The varsity cheer team attended a competition on Jan.16, at University of Wisconsin-Stevens Point to start off their competition season. Head Coach Makenna Murkley explains results from the first competition where they received third place.
"The first competition of the season went okay. We had a small calf injury during warm ups and then an ankle injury while performing but overall it was a great competition to get the girls on the mat and perform in front of the crowd for the first time. We received great feedback from the judges and are already cleaning up our routine," Murkley said. 
Assistant Coach Delaney Putzke sees the team's strengths and weaknesses. 
"The team needs to work on having more endurance. Two minutes and thirty seconds may not seem like a long time, but when you're doing the things these girls are doing, it gets hard. The girls are good at working together as a team. Whenever something goes wrong, they are there to pick each other up and keep moving forward," Putzke said. 
The team had to fight through and overcome some challenges before the competition.  
"We had to work around some of the girls getting COVID and being quarantined, including me and four other team members," base Alexis Reabe said. 
The team looks forward to more competitions as the season begins to unfold. 
"Our next competition is at Greendale on Jan. 22, if the team is healthy to perform (because of injuries and COVID). Then we travel to Kettle Moraine Lutheran Jan. 29, and State Prelims at Wisconsin Dells High School on Feb. 5," Murkley said. 
Not only does the cheer team have competitions, but they will also be performing at upcoming basketball games. 
"Students can come watch the cheer team perform at a few basketball games in February. Keep an eye out for those dates and come support the girls," Putzke said. 
Murkley says she is grateful for the support the cheer team has received this year. 
"I would just like to say thank you for the support this team has received this past year. Just like many other athletes and teams, the girls have gone through many challenges this season and the school support has helped show them that their hard work is worth it," Murkley said.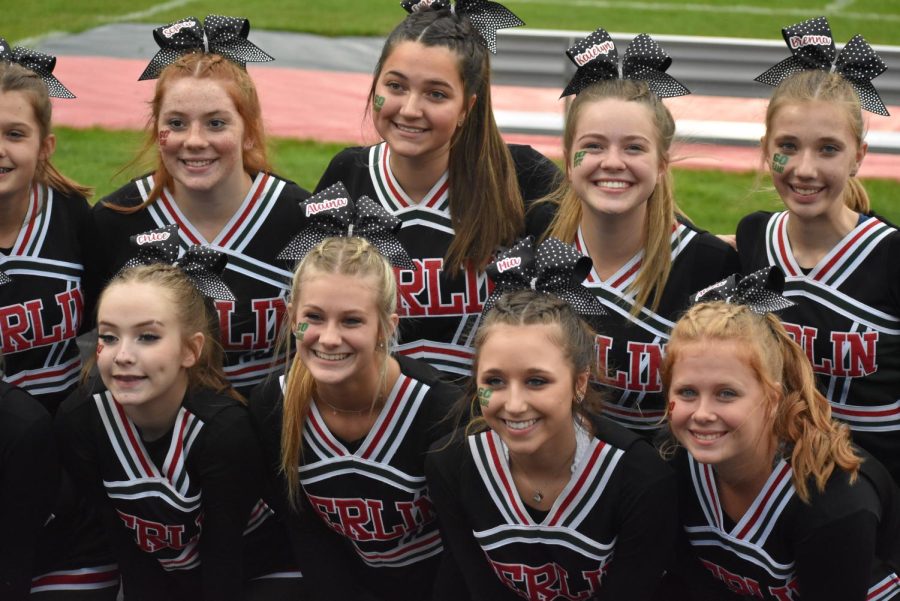 Cheer team gets new coach midway through season
While most school sports start in the month of August, the cheer team's season began all the way back in July. It was a surprise to the cheer team when they found out that they would be getting a new coach. 
"It was a pretty stressful transition because we had to all adjust to different hours and styles which meant a lot of long practices trying to figure everything out," freshman Aleea Lictenberg said. 
While the team tries to navigate through the new adjustments, new coach Makenna Murkley '17 has the same struggles. 
"The biggest challenge I'm facing with the team is the lack of practice they had over the past year and half due to COVID," Murkley said. 
Murkley had originally been the assistant coach to the cheer team for about a month and has only been head coach for about three weeks now. 
"After graduating college, I realized I missed cheer more than I thought and wanted to help out the team," Murkley said. "I had cheered for 10 years for Berlin before graduating in 2017. Then took four years off to focus on school."
During Murkley's time of stepping in, the cheer team was practicing their routine for the Homecoming pep rally. The team only had five practices to get the routine down.
"I think the pep rally went really well. We were all so happy to show off what we had spent so many hours into. We hit our routine and it couldn't have made me happier," Lictenberg said.
Murkley and the rest of the cheer girls share the same thoughts about how the pep rally went. Not only did these girls have to worry about the pep rally but also the football games. 
"Their performance during the games has gotten a lot better. They are already louder and have sharper motions which is what I (and the rest of the spectators) like to see," Murkley said. "They have already faced two rainy games and they pushed through to cheer on the football team and their school."
Despite Murkley being the cheer coach for only three weeks now, she couldn't be more proud of the team and what they have accomplished in such a short amount of time. 
"A benefit that came out of this was more support and definitely more comfortable and more fun to be there," sophomore Alexis Reabe said. 
Tryouts for competition season will be held on October 11 from 6:30 – 8:30 p.m. in the Middle School Multipurpose room. Anyone that is interested can contact any of the cheer girls or Makenna Murkley at [email protected]. 
Cheer seasons ends at regionals
The cheer team's season ended on Feb. 12 at their regional competition in the Wisconsin Dells. The team's coaches this year were two returning BHS and cheer alumni Makenna Murkley '17 and Delaney Putzke '21. This season was led by flyer and the team's only senior Alaina Kapp. 
Sophomore back spot Gwyneth Pence joined cheer to get involved. She transferred to Berlin after football cheer had concluded, but was able to jump right into the competition season.
"My first season of cheer at Berlin contained a lot of commitment and hard work. It was overall worth it because I had such a fun season and the girls on the team made it fun and a lot less stressful," Pence said.
The team's last performance was Tuesday Feb. 16, at the boys varsity basketball game. They performed their hip-hop routine to an upbeat remix. The team also completed two stunts in this routine. 
"One of my favorite memories from the season would have to be the feelings after hitting all of our stunts whether that be at a competition or our school performances," Kapp said.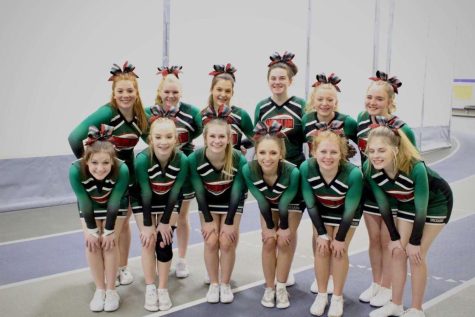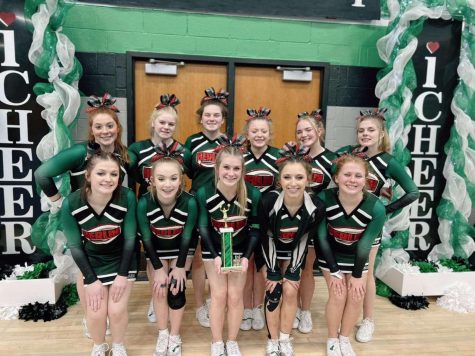 Freshman Tess Kujawa participated in her first year of varsity cheerleading as a back spot and made many memories. 
"My favorite part was the competitions, my favorite competition was in Greendale," Kujawa said. 
Though they did not make it all the way to state, the season was still seen as a great growth period. With the many obstacles the team faced they pushed through but were still unable to qualify for the state competition. 
"Unfortunately, we were unsuccessful in making it to state because our team had a big impact with getting sick and getting injured. Through it all, I'm really proud of all of us because we still did great," Pence said. 
The team will have a short off season and be back to work this summer, but that will be without Kapp. 
"What I will miss most about cheer is my teammates and our endless laughs we share at practice," Kapp said.