The Little Mermaid musical underway
January 28, 2022
The musical this spring is exciting for most of the cast members. The cast and everyone putting together the musical will be performing a Disney classic "The Little Mermaid."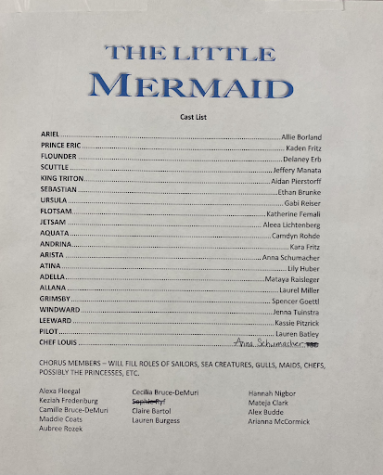 "With everything going on in the world, we felt we had to be careful about what content was in a show and this one seemed pretty tame being a Disney production with its fantasy story. I also had to look at how many people I have and how many strong actors to make sure all of the roles can be filled," director Lisa Utecht said.
There are a lot of things that students can do to express themselves throughout their school careers. Some are more focused on sports, clubs, or music, sometimes a mix of them. For some students, Berlin High School's musical is a big part of their school careers. 
"In terms of school musicals, I have been in every musical since my sixth grade year. My initial interest for the musical is because I love to sing and because musicals have always been something I've felt excited about. The way that musical theater combines vocals, acting, dancing and more into a big production is fascinating to me," junior Ethan Brunke whos playing the part of Sebastian said.
To put on something like a school musical, it may take awhile.
"I've loved doing musicals here every year for the past 30 years. It is so fun to create and put the puzzle pieces together over the course of about 9-10 weeks and the performances bring great pride for me and our school, but especially for the kids," Utecht said. 
On the night of the big show there are a lot of different feelings.
"The thrill of performing is like nothing I can explain. I am so nervous in the beginning, nearly sick, then I feel so happy and accomplished," senior Gabrielle Reiser, who plays Ursula, said.
Rehearsals are underway and the show is coming up quickly.
"It feels so relieving. After working on this big show for months, it is a relief to showcase our hard work and give the community something to enjoy," Brunke said. 
The musical is still being worked on and will be showcased virtually and in person in April of 2022.
"The musical is so much fun and everyone should come to watch our production on April 1 and 2," Reiser said.
Students put on amazing show
Berlin High School's cast of "The Little Mermaid" made the weekend one to remember for an entire auditorium full of people. All throughout the play, there were beautiful pieces of art to set the scenes. They were colorful, bold, and very creative. However, that was not the only creative contribution, the costumes were amazing as well. One of the favorites is Ursula's played by senior Gabi Reiser with her large tentacles. The eels, played by Kate Femali and Aleea Lichtenburg, had fantastic costumes with lights wrapped around their arms and the head of an eel on their hands. Also, tribute needs to be paid to the people working behind that stage because of how smooth the transitions were from scene to scene.
Senior Alexandria Rosin-Borland played Ariel, and junior Ethan Brunke was Sebastian. These were some of the people who had major solos. All of their vocals were on point and very clear. Ariel sounded exactly as she does in the movie. Sebastian had a Jamaican accent that made him stand out from the rest. A favored song was Ursula's song "Poor Unfortunate Souls," which was sung loud and clear by Reiser. 
A scene that made the crowd roar with laughter was when Ariel had finally made it to the land to win the Prince over, but Sebastian landed himself in the kitchen where other crabs were being cooked. However, Sebastian was avoiding his death by hiding under the counter and peering out. This scene with a combination of good acting and a strong set was hilarious.  
Another honorable mention was the scene where "Under the Sea" was sung. The cast was dancing, singing, and wearing dazzling costumes. This scene was made perfect by strong vocals and amazing costumes. The crowd seemed to feel the same because after the number was done they erupted in cheers. Overall this play deserves a five out of five.
Art Department creates set for musical
It is the opening night of "The Little Mermaid" musical. Audience members walk into the auditorium and arrive at seats, the curtains open and reveal the beautifuly executed and realistic looking set. There is a lot of behind the scenes work that goes into the accomplishment of the aesthetics for the musical. 
"It is challenging to find the time to make sure everything gets done, I have been leaving classes if I have free time to work on it," senior Molly Gallert said. 
Finding the time to work on this huge project has been one of the biggest challenges for the Art Department. 
"We have not done something like this before so that is a challenge itself. Another part that has been difficult has been finding the time to do it. All of my classes have sort of turned into a 'work on the musical set' class, which is okay because they are getting different experiences than they normally do in art class," art teacher Lori Rademann said.
With that being said, many students have helped with putting together the set itself and painting different parts of it.
 "I built part of the coral reef and made some little sea creatures. I also helped to make a rock and painted it," senior Juliana Olvera said. 
Not only is this a massive project for the Art Department, there is also a time crunch for them to get it done.
"It needs to be done as soon as possible, within a month, but it would be nice if we could get it to them soon so they can practice with them," Rademann said.
The set seems to be on track to be finished with plenty of time for musical students to be able to practice with their finished set. 
"There are just a few things that still need to be done such as coral reefs, and they just brought us several 4-by-8 boxes that still need to be painted as rocks," Rademann said.
This project has not only been a big deal within the Art Department, but has also created an enjoyable experience for students.
"This project has been a lot of fun, I love painting and get to use messy brush strokes since it is so big, and it has been fun and laid back," Gallert said.