Academic Decathlon qualifies for state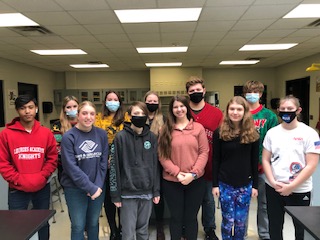 Academic Decathlon is a school club at BHS involving students of all grade levels. The team tested on Jan. 6 and 7 in order to compete at the state competition which will be held on Feb. 24. Academic Decathlon is a competition testing students on 10 different categories: art, music, social studies, economics, math, literature, science, interview, speech and essay.  
"Every year there is a theme that they base the questions around. This year the theme is water. They will have the novel 'Sea Wolf' to read," adviser Nick Kvam said.
 Kvam has been coaching for four years now, and he used to be co-adviser with former English teacher Cory Willhite. 
Along with the novel students receive a binder filled with anything and everything that could be on the tests. 
"We have a giant binder that each player is given containing a lot of information for each of the seven test subjects, so reading that is a way we prepare. There is also a book to read every year, and we have to prepare a speech for the competition as well," senior Kaden Fritz said. 
Though the team has meetings, they do not do much practicing during that time. The participants don't devote too much time to studying but when they do it they study at home or in their free time. 
Through Aca Deca people can gain information and also the feeling of being on a supportive team. 
"Anyone can join Aca Deca. This year it is Sophie Ryf, Kaden Fritz, Allie Borland, Lily Huber, Karisa Tessaro, Emanuel Caulfield, Annelise Dahnke, Aidan Pierstorff, Thomas Shumacher, Emma Latza, Jeff Manata, Gabby Delzer and Aubree(Andrew) Rozek," senior Mateja Clark said.
 The Academic Decathlon team is not accepting any new members at the moment but next year they will be looking for additions to the team. 
  "I joined Aca Deca because I thought it would be fun to do. I had heard about it in different forms of media and wanted to give it a try," Fritz said. 
For Clark she was asked to join her freshman year and has participated every year other than her junior year. 
On Feb. 24 the team will be participating in the virtual state competition. Only Sophie Ryf, Kaden Fritz, Allie Borland, Lily Huber, Karisa Tessaro, Jeff Manata, Gabby Delzer, Aubree(Andrew) Rozek, and Mateja Clark will be able to compete but the others will be alternates in case of quarantine. 
"We qualified by getting top three in our division, Division III," Kvam said. 
The competition begins at 11:30 a.m. and will go until approximately 8:30 p.m. The competition will contain the seven virtual written tests, the super quiz in which they answer as many questions as possible in the five given minutes, and lastly the speeches and interviews. 
"It's a really fun experience that I recommend to anyone. You don't have to be 'smart' to do it," Clark said.