'Midnights' by Taylor Swift attracts new listeners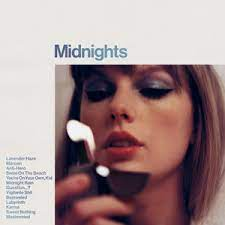 Taylor Swift released her new album "Midnights" on Oct. 21 of this year. This is her first album that she released in two years following "Evermore." The album was announced when Taylor Swift spoke at the MTV Music Video Awards, saying that these songs were going to represent her "13 sleepless nights." Her announcement created chaos and excitement all over the country. She's easily making history with these songs having the whole world wrapped around her finger.
The track list fits perfectly with the vibe that Taylor Swift is going for. Each song is focused in a different direction than Taylor Swift has been giving us before. They have their own morals and give off a mystical aura. This girl can pull off every music genre that is given to her and we are here for it. Over the TikTok platform, just about every song on this album has its own trend attached to it. Ms. Swift is the star, as she should be, slaying every verse throughout every song. Her extended "3 am"  edition is just as impressive as her main songs. These songs include "Great War," "Paris," "High Infidelity," "Bigger Than the Whole Sky," and "Glitch." These songs are easy to love due to the different style compared to her usual style. They have a more in depth view of Taylor Swift's life, feelings, and experiences. Her second song, "Maroon" and fifth song, "You're on Your Own Kid" on the track list, are favorites based on the number of listens on Spotify. The bridges on both of these songs touch hearts and literally give chills. "I hosted parties, and starved my body, like I'd be saved by a perfect kiss". This verse from "You're On Your Own Kid" is a favorite part for listeners because we hear about struggles from Taylor Swift herself showing that she is real and not just posing as an image to the public.  
There are few to no negatives for "Midnights." While waiting for her to release it, the days were counted down. When she did, she delivered. The only negative is that the order of the songs matched the vibe and tempo of the song scale. It just feels a little off balance switching melody and harmony style. She stepped up after missing two years of making music and hasn't lost her touch. The fans of Taylor Swift and those who love classic love songs would absolutely love this album. This album in particular really fits for indie music lovers and her previous fans. These songs give off the vibe of  taking a long car drive with the windows down in the middle of the night. Since she really out did herself coming back from the break of music releasing, this is an easy 5/5 rating.