Cheer seasons ends at regionals
The cheer team's season ended on Feb. 12 at their regional competition in the Wisconsin Dells. The team's coaches this year were two returning BHS and cheer alumni Makenna Murkley '17 and Delaney Putzke '21. This season was led by flyer and the team's only senior Alaina Kapp. 
Sophomore back spot Gwyneth Pence joined cheer to get involved. She transferred to Berlin after football cheer had concluded, but was able to jump right into the competition season.
"My first season of cheer at Berlin contained a lot of commitment and hard work. It was overall worth it because I had such a fun season and the girls on the team made it fun and a lot less stressful," Pence said.
The team's last performance was Tuesday Feb. 16, at the boys varsity basketball game. They performed their hip-hop routine to an upbeat remix. The team also completed two stunts in this routine. 
"One of my favorite memories from the season would have to be the feelings after hitting all of our stunts whether that be at a competition or our school performances," Kapp said.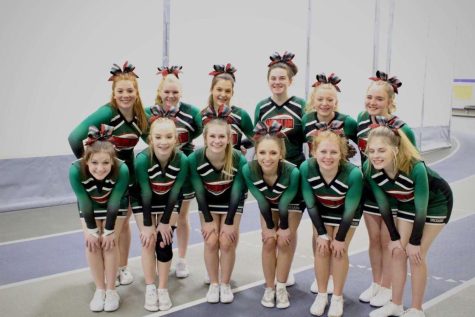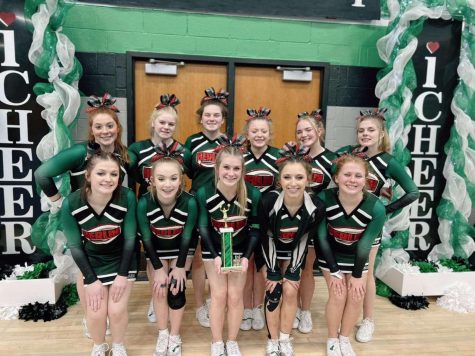 Freshman Tess Kujawa participated in her first year of varsity cheerleading as a back spot and made many memories. 
"My favorite part was the competitions, my favorite competition was in Greendale," Kujawa said. 
Though they did not make it all the way to state, the season was still seen as a great growth period. With the many obstacles the team faced they pushed through but were still unable to qualify for the state competition. 
"Unfortunately, we were unsuccessful in making it to state because our team had a big impact with getting sick and getting injured. Through it all, I'm really proud of all of us because we still did great," Pence said. 
The team will have a short off season and be back to work this summer, but that will be without Kapp. 
"What I will miss most about cheer is my teammates and our endless laughs we share at practice," Kapp said.