Dynamic Duos
Rodensal and Brown do not let age define them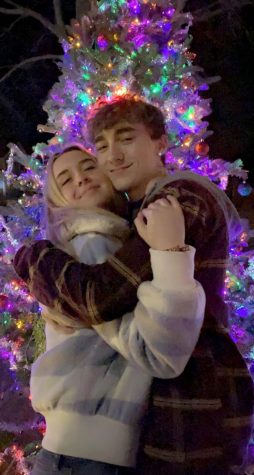 In high school, students meet many new people and can develop new relationships. There are couples in the school that everyone knows. It could be possible that they will be together forever. The Red 'n' Green will be taking a closer look at these relationships.
Sophomore Chloee Brown and senior Austyn Rodensal met in Dec. of 2018 at their church's youth group. The couple started talking in late January and talked for a while until June 2019, when Rodensal asked her to be his girlfriend. They have been together for a year and five months. They also go on vacations together with their families. Rodensal went with Brown's family on a trip to California, and they went camping together up north with Rodensal's family. The couple says they have been together for so long because they respect each other and talk to each other about everything. 
"We disagree about stuff like any other couple, but we always talk about it and try to find a solution as quick as we can so we can fix the problem," Rodensal said. 
A large age gap in high school can seem like a big deal, but as soon as the couple is out of school people realize that it is completely normal. The couple has a two year age gap, and some people do not take them seriously the couple says. 
"I personally don't think that the age gap affects us at all but some people think that it makes our relationship not real or we won't last because of it," Rodensal said. 
Both Rodensal and Brown chose to do online school last trimester. This gave them lots of time to spend with each other. They are also online this trimester, so they will be together often.
"We're both doing online school, it doesn't really change much. We still hang out often, and sometimes we do school together," Brown said.
In the summer when Rodensal goes to college, the couple does not think it will affect their relationship because they talk through every problem that comes up.
"I feel like when I leave for college it will be a little harder because we won't see each other as much but we will make it work with the time that we do get to see each other," Rodensal said.