Girls basketball rematches against Winneconne
The girls basketball team has had some struggles, but they hope to back on the winning streak they previously had and beat Winneconne at their home game tonight. 
"We played Winneconne at the beginning of the season and we didn't play the best against them, and hopefully we can do better this time. Last time we lost by a lot. We didn't know the steps as well as we know them now," post Claire Bartol said.
The girls lost by 12 points in their last match-up against Winneconne, but now they have practiced more and done more to communicate on the court. They say they will be ready to go against Winneconne again.
"That (game against Winneconne) was the first game I scored a point, and that is when I started coming out of my shell to be an actual basketball player," post Callie Kurczek said.
    Kurzcek also has a strategy in mind to beat Winneconne tonight.
  "I think we might pass a bit faster and be faster with our hands," Kurczek said.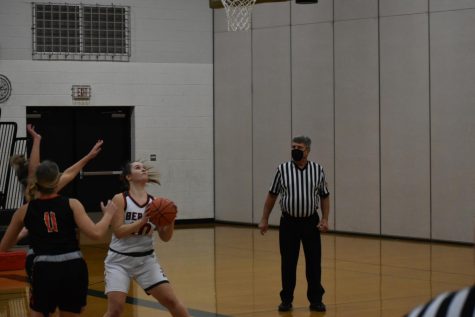 Post Maddy Rilling says the team's strong communication skills will help them on the court, and wants to focus on getting the ball away from the players who make the most points.
"Sophomore Jane Hoffman and senior Kara Fritz have really stunned the people. Jane and Kara are doing a good job this season on defense and getting us points," Rilling said.
The girls JV team plays at 5:45 and varsity at 7:15 at home tonight.